Diablo Parachute Poncho
The Machina Parachute Poncho understands that the relationship between fashion and function has changed. Designed with a striking blend of utility and bold aesthetics, this piece features an adjustable harness that conceals a breathable, water-resistant poncho stowed on the back. With a pull of the rings the poncho moves easily into place, offer full-body protection. The front of the harness features zippered pouches, making it an ideal choice for your everyday life, festivals, hiking or geo-adventuring.

Parachute Poncho's mechanics are patent pending. This is just the first of others to come.  Also available in black color.

$375.00
USD
PARACHUTE PONCHO
Our parachute poncho began life in 2019 as one output of a design challenge to consider transforming apparel, beyond any other traditional garment. With global warming and sustainability being such hot topics in the fashion realm, we know for a fact that today's world doesn't need any more new clothes. There is an extreme excess of clothing and waste. It is no secret. In MACHINA we are firm believers that the future of fashion relies on better design solutions promoting true functionality and high quality products that can last a lifetime.
MANUFACTURED WITH A SUPERB WATER RESISTANT FABRIC.
HIGH QUALITY DETAILS AND CUSTOM MAGNETIC SNAPS.
*** Deliveries start in March 2022
"ULTRA LIGHTWEIGHT TRANSFORMABLE GARMENT. WATER RESISTANT. HIGH QUALITY MATERIALS AND DETAILS."
WHAT'S IN THE BOX?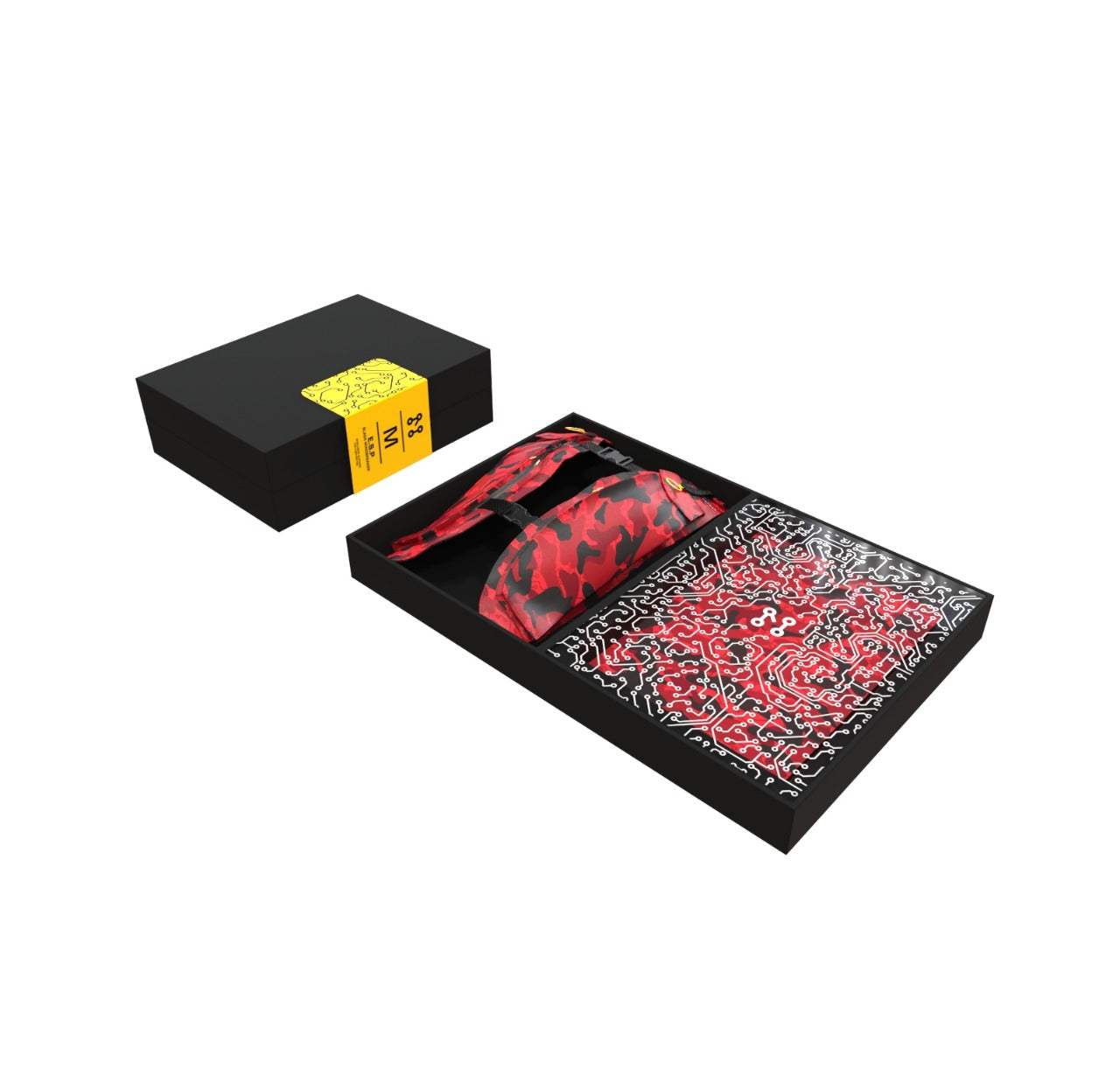 Contains 2 garments: 1 vest, 1 poncho. Sizing of choice.

Wash by hand - DO NOT USE WASHING MACHINE / Do NOT tumble dry /Do NOT iron.

Reminder: delicate garment.

YOU ARE COMPLETELY RESPONSIBLE FOR USING THEM CORRECTLY! MAGNETS DISCLAIMER : Machina Wearable Technology LLC, Machina Wearable Technology S.A.P.I. de C.V. neither assumes nor accepts any liability for damages resulting from the handling, use, or misuse of its products. With your purchase or use, the owner or user confirms that they have read and understand the following warnings. The owner or user agrees that he/she is responsible for all damages and injuries caused by the magnets and hoops, which include personal injuries, property damages and magnet damages. The buyer and user must agree with the terms before purchase and use of the product. The following should not be construed as a complete and exhaustive list of hazards presented by magnetic materials. This document is provided for information only. Readers are responsible for checking the accuracy, completeness, currency and/or suitability of all information themselves. Machina Wearable Technology LLC, Machina Wearable Technology S.A.P.I. de C.V. does not represent, guarantee or warranty the accuracy, completeness, currency, or suitability of the information in this document. Machina Wearable Technology LLC, Machina Wearable Technology S.A.P.I. de C.V. specifically disclaims any and all liability for any claims or damages that may result from providing this document or the information it contains. Pacemakers or other medical devices and mechanical implants Individuals with health issues which require that they wear electronics of any sort like pacemakers, defibrillators or other internal and external medical devices should use caution when handling strong magnets, such as the type included in the Mighty Hoops. Pacemakers may be damaged or switch to "Test Mode" in the presence of a strong magnetic force, if a pacemaker or other medical device is in use, magnetic fields may affect the operation of these devices. If any user has any type of electronic, mechanical, implanted or external medical device, consult their physician and the manufacturer of their medical device to determine its susceptibility to static magnetic fields prior to allowing them to handle the magnetic hoops. All magnetic products should be kept at a safe distance from individuals with these devices. The maximum magnetic field strength at the surface of the hoops is approximately 0.4 tesla or 4000 gauss. At 1 inch away this decreases to under 0.01 tesla or 100 gauss and at 2 inches it is under about 25 gauss. These are only approximate numbers and can vary from hoop to hoop, but should give you some estimates on field strength to discuss with a physician. Damage to magnetic media, electronics, and mechanical devices The strong magnetic fields of neodymium magnets that are a part of this product can damage magnetic media such as floppy disks, hard drives, credit cards, magnetic I.D. cards, cassette tapes, video tapes or other such devices. They can also damage televisions, computers, cell phones, VCRs, computer monitors and other CRT displays. Never place neodymium magnets near electronic appliances, mechanical watches, hearing aids, or loud speakers. Keep away from any mechanical device that could be affected by a magnetic field.
| SIZE | CHEST (cm) | WAIST (cm) | HIPS (cm) |
| --- | --- | --- | --- |
| XXS | 72 | 57 | 72 |
| XS | 80 | 65 | 80 |
| S | 88 | 73 | 88 |
| M | 96 | 81 | 96 |
| L | 108 | 89 | 108 |
| XL | 112 | 97 | 112 |
| XXL | 120 | 109 | 120 |
Before we can dispatch your purchases, we may need to confirm your details with your card issuer. Once payment has been approved we will begin manufacturing your garment. Because of the high complexity and top quality details each garment has, we will take 2 weeks period to deliver this carefully manufactured garment. It is of great importance for us to deliver high end tech-wear, construction and function into the clothing that we design. Our delivery time starts from the moment an order is accepted. Please note this can take longer during our sale periods when it may take up to 48 hours for shipments to be dispatched.
If you pay by debit card or PayPal, MACHINA will take payment at the point your order is placed on our site. If you pay by credit card, full payment will be taken once your order is ready for shipping. We accept the following payment methods:
Visa
MasterCard
American Express
Visa Electron
PayPal
Apple Pay
Alipay (only available to Mainland China, Taiwan, Hong Kong Region and Macau Region)
UnionPay (only available to Mainland China, Taiwan, Hong Kong Region and Macau Region)
Your order will be charged in USD for a competitive exchange rate.
The items for return must be fulfill our return policy:
Your item for return must arrive at its place of origin in no more than 14 days after you have received your order. After this time, we can not guarantee that your refund will be processed.We recommend that you book your return with pickup during the first 7 days after receiving your order. Please, contact our Customer Service Representatives if you have any questions about it. Keep in mind that we can only collect returns in the same country or region to which your order was sent. If you have to return an item from a different country / region than your shipment, you may have to pay additional customs fees. We remind you that you can not do this using our free return service with pick up at your door.
Once your return has been received and it complies with our return policy, we will reimburse you through the payment method you used or change of product. We warn all our customers that they must check the parts they wish to return before removing any label and removing it from its original package. Items must be returned unused, unwashed, undamaged and with their original labels. Items must be returned in their original boxes and inside the protective shipping box. We recommend that you return the items in their original packages to ensure their protection when in transit. MACHINA offers free returns with collection service to all its customers.
You have 14 days from the moment you have received your order to return an item. To ensure that it is returned on time, we recommend that you book your free return with pick-up service during the first 7 days after receiving your order
Defective items
It is our duty to make each item arrive in perfect condition so that your purchase fullfills you with satisfaction. However, if you receive a damaged or defective item, or if it does not correspond to the description on the page, please contact our Customer Service as soon as possible. We will make the proper return and process your full refund for the defective item.
SPECIALIZED RETAILERS
USA

MIAMI

MACHINA | CKO EDGEWATER

2150 North Bayshore Dr. Suite 100 | Miami Florida 33137

MEXICO

MEXICO CITY

MACHINA Flagship Store

Versalles 15 Juarez, Cuauhtémoc, 06600
| Mexico City | Mexico

TAIWAN

TAIPEI

MACHINA SHOWROOM

No 207 B-1, Sec 3, Beixin Road, Xindian Dist.,New Taipei City, Taiwan R.O.C. 23143新北市新店區北新路三段207-5號9樓

SPECIAL ENQUIRIES

PLEASE CONTACT US AT:

NEWSLETTER

THIS SITE OPERATES UNDER A CREATIVE COMMONS LICENSE.
SUBSCRIBE TO OUR NEWSLETTER